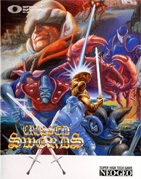 Crossed Swords
Platform: NeoGeo
Price:

$7.99

¥823

£6.29

$10.50
Developer: ADK
Publisher: D4 Enterprise
Genre: Action
Players: 1-2
Original Release: 1991
Release Date:

2018-08-23

2018-08-23

2018-08-23

2018-08-23
Also On:

Official Description
"CROSSED SWORDS" is an action game released by SNK in 1991. In order to defeat the demon Nausizz, use Weapon Attacks, Magic Attacks, and your Defend ability as you make your way through seven intense stages. Up to two players can play simultaneously with the unique 3D perspective. Buy weapons with accumulated GOLD. Characters also grow in strength through an RPG-like system.